Table of Contents
UNDER CONSTRUCTION
Lao Po's dream, or the story of a lonely girl
老婆的梦/一个孤单女孩的故事
Written by:
Einar Petersen
作者:Einar Petersen
Translated into Chinese by:
Huan Zhou
译者: 周寰
Co-translation, Supervision, Proofreading and Editing of Chinese translation by:
William Huang Wen 黄文 - Sichuan Normal University
中文译本翻译,监督,校审与编辑:黄文——四川师范大学
The story of a lonely girl
老婆的梦/一个孤单女孩的故事
About the story:
This tale is based upon a dream, my wife dreamed the night before Irdi's birthday (my younger brothers sweet partner) on 27'th of July 2010, and the main plot was jotted down in the middle of the night, before it could fade from my memory like so many dreams seem to do.
2010年7月27日傍晚,即伊迪(我弟弟的女朋友)生日的前夜,我的老婆大人—可爱的闺秀千金女,化作南柯一梦人,于是有了这则童话,然记忆总是易逝,我险些颠翻了床铺,于子夜捉笔记下犹粗略的梗概。
Support the author or The Global Ability Initiative!
支持作者或全球能力倡议!←– Where to put this link!!! Support
Under each picture you can find selection links these will enable you to choose between 3 different artists rendition of the story.
在每幅图片下面有选项连接,您可从3种不同风格的译文中任选一篇来阅读。
This page is illustrated by Nada Serafimovic.
这款的插图是Nada Serafimovic(娜达.西日菲木维克)绘制的
Born in July, 7th 1985 in Belgrade, Serbia. Middle school education of Fine Arts, Design in Belgrade, section: grahic and packaging.
她出生于1985年7月,塞尔维亚,贝尔格莱德市。 贝尔格莱德美术设计中学教育,专业为图形和包装
Became a master of applied graphic (illustration and designing books) in July, 2010 at Faculty of Applied Arts, Belgrade. Working freelance since 2010…
2010年7月,成为应用图形(插图和设计书)贝尔格莱德应用艺术学院硕士。 从2010年开始一直为自由工作者
This story is her third finished illustrated work. During 2012 three publications more are expected - Further merits.
这幅插图是她的第三幅完结插画作品。 在2012年里她将出版另外三副作品
She has the following to say about the creative process:
下面讲述她如何创造插图:
The technique used for illustrations are acryliques, crayons (aka china markers/bleisdells), and pastels, on textured cardboard, then scanned and edited in Photoshop. 插图所用的技术是丙烯颜料,蜡笔(也叫标号笔/blaisdells),粉彩,绘于硬纸板上,然后用图像处理软件(Photoshop)扫描和编辑。
If you like her art you can find her at http://www.freelancer.com/affiliates/einarpetersen/ - Please do not change the URL as it will benefit me if you go in that way and immediately sign up.
如果您喜欢她的绘画,您可以在这个网址找到她:http://www.freelancer.com/affiliates/einarpetersen/ - 请不要改变统一资源定位格式(URL),因为这样方便我知道您以这种方式登陆并立即注册。
Then you create your project and invite her to bid!
您可以创建您的项目,并邀请她参加竞标!
Her user name is : nadaserafimovic - Thanks!!!
她的用户名是:nadaserafimovic 谢谢!!!
Lao Po's dream, or the story of a lonely girl
by
Einar Petersen
is licensed under a
Creative Commons Attribution-NonCommercial-NoDerivs 3.0 Unported License
.
Share this with your friends! - Support The Global Ability Initiative!
和您的朋友一起分享这个童话! 支持全球能力倡议!
Download PDF in Style II
下载中文版风格二
The story of a lonely girl
一个孤单女孩的故事
1
The lonely girl strode through the heavy snow with the wind tearing at her face and the cold stinging like a thousand needles.
孤单女孩迈着步子走过厚重的积雪——凛冽的寒风撕扯着她的脸庞,刺骨的严寒感觉像万千针扎。
It hadn't always been like this; many years ago, she could remember feeling the warmth of summer upon her face and joyful times with friends, now gone forever from her life.
但之前并非总是如此。她仍记得多年前她和朋友们在温暖的夏日里嬉戏玩耍的情景,但如今这些都永远地从她的生活中消失了。
As the years passed by, she grew lonelier and lonelier until finally she felt like, she was the only person in the world.
一年又一年过去了,她变得越来越孤单、越来越寂寞,直到最后她感觉自己像是这个世界上唯一的人。
She had family who loved her, but no matter how hard they tried, she could feel nothing.
她有爱着她的家人。但无论他们如何努力地爱她,她什么也感觉不到。
It was, as if her very heart had frozen in the eternal darkness of an unending winter's night. She was different and unwanted; of that she was certain.
她的心,仿佛在一个无尽冬夜的永久黑暗中,冻结了。对于自己的与众不同与遭人排挤,她心知肚明。
It was on a day like any other day of that winter, that she came across the old lady.
在一个平常的冬日,她遇到了一位老奶奶。
The old lady seemed ill-dressed for the cold weather, but even so she seemed to radiate warmth and kindness. As the lonely girl looked at her, she felt, just for a second, her heart begin to thaw, just the tiniest bit.
在这样寒冷的季节里,老奶奶的穿着显得简陋与单薄,但从她身上却似乎散发出温暖与慈祥。就在孤单女孩看到老奶奶的那一瞬间,女孩内心的坚冰开始一点点地融化了。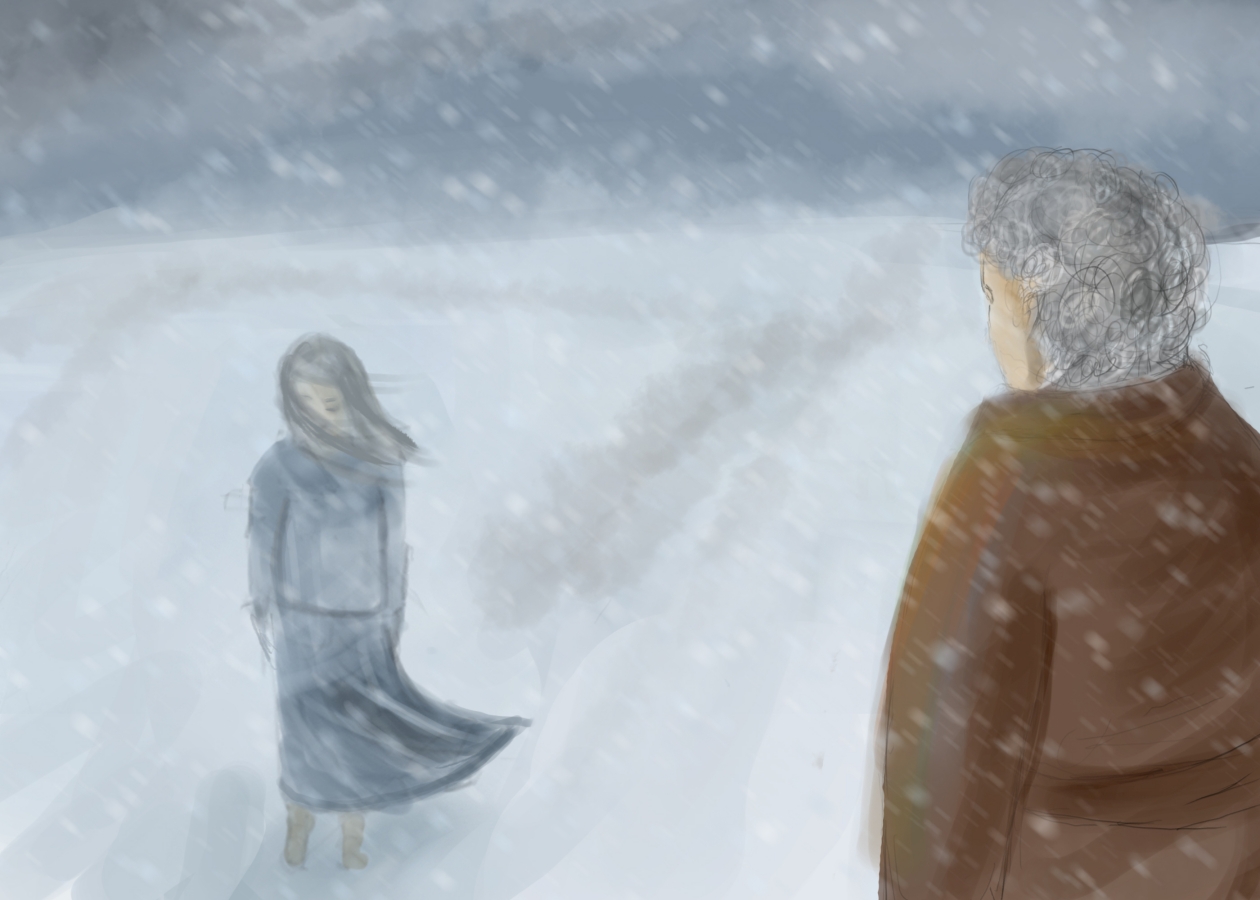 2
"Why are you so sad, little girl?" asked the old lady.
老奶奶问道:"小女孩,你为什么这么伤心呢?"
The lonely girl looked at the old woman and a tear fell from her eye and in the darkness of that fading winter's day, the tear froze to ice, as it struggled down her cheek.
孤单女孩儿望着老奶奶,一滴泪珠从眼眶中滚落了下来。在那个苍凉冬日的黑暗中,泪珠艰难地划过女孩的脸颊,结成了冰块。
The old lady gently swept the tear from her cheek.
老奶奶轻轻拭去了女孩儿脸颊上的泪珠。
"Come with me. Let me tell you a story." she said softly.
"跟我来,给你讲一个故事。"她温柔地说。
br>
**********************
br>
Every night, for three years, the lonely girl sat at the window like the old lady had taught her.
三年来,每天晚上孤单女孩儿都照着老奶奶教她的样子,坐在窗户旁。
Her parents and siblings were very worried and nobody understood the strange song that the lonely girl sang.
她的父母和兄弟姐们都很担心她,而且没人听得懂孤单女孩唱的那首奇怪的歌。
The villagers thought she had gone completely mad - the song sounded like grinding teeth to their ears.
村民们都认为她完全疯掉了—— 那歌声听起来就像是她在磨自己的牙齿。
She became even more shunned than she had been before, but still the girl sang, for the old lady had sown a seed, that burned like a tiny fire of hope, long into the night.
她比以前更加遭人排挤了,但女孩儿仍旧唱这那首歌。这是因为老奶奶已经播下了一粒种子,它犹如希望之火在漫长的黑夜中燃烧着。
3
It was early in the evening when it happened. For the lonely girl, this had been the darkest winter ever and her only comfort had been the strange song she had been taught to sing.
事情发生在傍晚。在这个孤单女孩所经历过的最黑暗的冬日里,老奶奶教她唱的那首奇怪的歌是她唯一的安慰。
She usually did so up on the loft, where they kept supplies for the coming spring, like corn and other seeds. Normally, she could hear the animals in the stable make some noise and perhaps the odd bird would cluck from within the hen house. This time though, the ambience she knew so well suddenly changed dramatically.
她经常在阁楼上唱歌,那儿有人们为来年春天储备的诸如玉米和其他作物的种子。她平常能听到动物们在畜舍中哼哼作响和怪鸟在鸡舍中咯咯鸣叫。但这一次,她所熟知的环境发生了翻天覆地的变化。
There was not so much as a squeak from any animal and even the tedious howling of the winter winds seemed to die down.
动物们连一丁点吱吱声都没有发出来,甚至连寒风也似乎停止了沉闷的嚎叫。
Everything had gone dead silent, at least that was how it seemed to the lonely girl. Something was afoot!
四周变得一片死寂,至少孤单女孩儿是这么觉得的。一定有事情发生!
Silently, she put on some clothes and went out into the snow. Her family did not seem to notice her at all, as they were engrossed in a game of Mahjong, that they were enjoying immensely.
她悄悄穿上衣服,出了家门走入雪地。她的家人完全没有注意她,因为他们当时正全神贯注地享受着打麻将的乐趣呢。
Once outside, she noticed a strange glow that came from above. It was akin to the Northern Lights - not that she had ever experienced those, but from what she had heard that was how it would be. There even seemed to be a slight hum, like that which was said to accompany such heavenly displays. However, as she raised her eyes towards the sky, her gaze stopped at the ridge of the stable, for up on the roof sat two giant birds unlike any she had ever seen before.
一到外面,她就发现头顶上有一道奇怪的红光。这种光很像北极光——尽管她从没看到过,但根据她听到的描述这应该就是北极光。周围甚至响起了轻微的嗡鸣声,就像是据说会随着神仙显灵而出现的声音。但当她正准备向天空望去的时候,她的目光在畜舍的边缘处停了下来——在房顶上停着两只她从未见过的巨鸟。
They looked like they were on fire and they just sat there, grand and magnificent. Their feathers shone with the most beautiful deep green colour you could imagine and their plumage was like the peacock's, except for the tail. The lonely girl was completely mesmerised by them.
它们看起来就像着了火一样——它们蹲坐在那儿,展示着它们伟岸而华丽的身躯;它们的羽毛闪耀着世人难以想象的美丽深绿色,就像孔雀的羽毛一样,除了它们没有孔雀的尾巴之外。孤单女孩完全被它们给迷住了。
Then they looked at her!
巨鸟们看到了她!
Strangely enough she didn't feel scared at all because there was something familiar about the two birds and when they finally spoke, the lonely girl immediately recognised the pitch of their voices.
奇怪的是,她一点也没有感到害怕,因为她与这两只鸟之间有一种熟悉的感觉。当它们最终说话的时候,孤单女孩一下子就认出了它们的声音。
They spoke in the language of the song, but it had an overall softness to it that was very different from the harsh sounds of the song, which she had learnt from the old lady 3 years ago.
它们是用歌声说话的,但声音听起来要柔软得多,这跟她三年前从老奶奶那学到的沙哑歌声有很大不同。
"Come." They beckoned benevolently.
"过来吧。" 它们亲切地向她示意。
As if in a dream, the little girl jumped up onto the rooftop, swirling through the air like a Kung Fu Master.
小女孩一下子跳上了屋顶,像一个功夫大师一样在半空中旋转着,这一切仿佛是在梦境一般。
For the first time in years she could feel. The lonely girl gazed from one bird to another and she could actually feel!!!
这么多年来她第一次有了感觉。孤单女孩与两只鸟面面相觑,她真的有了感觉!!!
The empty spot in her heart and soul seemed to dissipate and was replaced by warm feelings of love, peace and happiness.
女孩内心的空虚似乎在逐渐地散去,取而代之的则是关爱、宁静与幸福的温暖。
Oh the joy! She had never believed it possible to feel that way again, yet here in the darkness of winter, every fibre of her being was brimming with a joyful glow.
啊,太高兴了!她绝对没有想到自己还能再次有了感觉,在这个冬季的黑夜里,她的全身上下都充满着喜悦与温暖。
"We heard you." The gentle birds explained, "We heard your sorrowful song and we knew we had to come."
"我们听到你的声音了。" 鸟儿温柔地解释道,"我们听到了你悲伤的歌声然后我们就知道必须得过来了。"
The girl was bursting with questions that she wanted to ask, "But how … I mean, thank you… Where have you come from?"
女孩的嘴里满是她想问的问题,"但你们是怎么……我的意思是,谢谢你们……你们是从哪里来的?"
If it was possible, the look that came upon the birds would have been that of a mysterious smile.
女孩儿本会是很神秘地对着鸟儿们微笑的。
"We are of another world and we have come to make sure that you do not feel lonely among the souls of this world. For you see, no-one has to be lonely, not ever, all you need to do is to reach out and never give up. If you do, someone will hear, someone will come!"
"我们是来自另一个世界的;我们来到这儿是为了不让你在这个世界里感到寂寞。因为这个世上没有人必须得寂寞,永远没有。你要做的,只是努力坚持并且绝不放弃。如果你做到了,就会有人听到的,就有人会来到你的身边的!"
The girl was awestruck. Gone was the feeling of loneliness that had so engulfed her life, gone was the emptiness. What a miracle in this biting cold!
女孩儿震惊了。那股曾吞噬她生命的寂寞感消失了,盘踞在她内心的空虚感也消失了。这事儿在这个寒冷的冬夜简直就是一个奇迹!
While they had been sitting up on the rooftop, it had begun to snow again. The girl did not know how long they had been there, but suddenly she heard her mother's voice calling out, "Sweetheart, where are you?"
正当它们蹲坐在屋顶的时候,天上又飘起了雪花儿。女孩儿不知道他们已经在那儿呆了多长时间,但是突然她听到了她妈妈的声音从屋里传了出来,"小甜心,你在哪儿?"
"Oh my!" the girl exclaimed, "How long have we been sitting here? You must be so cold!"
"噢,我的天呐!"女孩儿喊道,"我们在这已经多久了啊?你们肯定很冷吧!"
The birds nodded; their glow seemed to have faded and they were trembling slightly.
鸟儿们点点头——它们的光芒似乎变得暗淡些了,它们的身体也在轻微地颤抖。
"Don't worry, we will be fine," the birds assured her.
"别担心,我们会没事的。"鸟儿们安慰她说道。
"No, it is too cold. You must come inside, but… You are so big!"
"不对,是这儿太冷了。你们必须得进屋来,但是……你们个儿太大了!"
"Hold out your hand, little friend." Said the bigger of the two birds.
"伸出你的手来,小朋友",两只鸟中个儿稍大点的鸟儿说道。
The girl held out her small hand and before she knew it, the birds were sitting on her palm, so tiny that she could easily carry them.
女孩儿伸出了她的小手。她还没反应过来,鸟儿们就已经坐在她的手掌上了。鸟儿们变得很小很小,小到她可以轻松地举着它们到处走动。
The girl swirled down from the rooftop again and headed for the door. She could not wait to show her family, for they would be greatly impressed.
女孩儿再次从屋顶上盘旋下来,落到地上,然后朝着家门口走去。她迫不及待地想把她的发现展示给她的家人看,因为他们肯定会异常惊讶的。
"So cold." She heard a faint voice say as she reached the door and she stopped. She looked at her hands.
正当她要把手伸向家门的时候,她听见一个微弱的声音说道:"太冷了。" 于是她便停了下来,看着她的两只手。
The two birds were lying down, their glow all but extinct.
两只鸟儿躺在她的手掌心中,它们的光芒弱到快要消失了。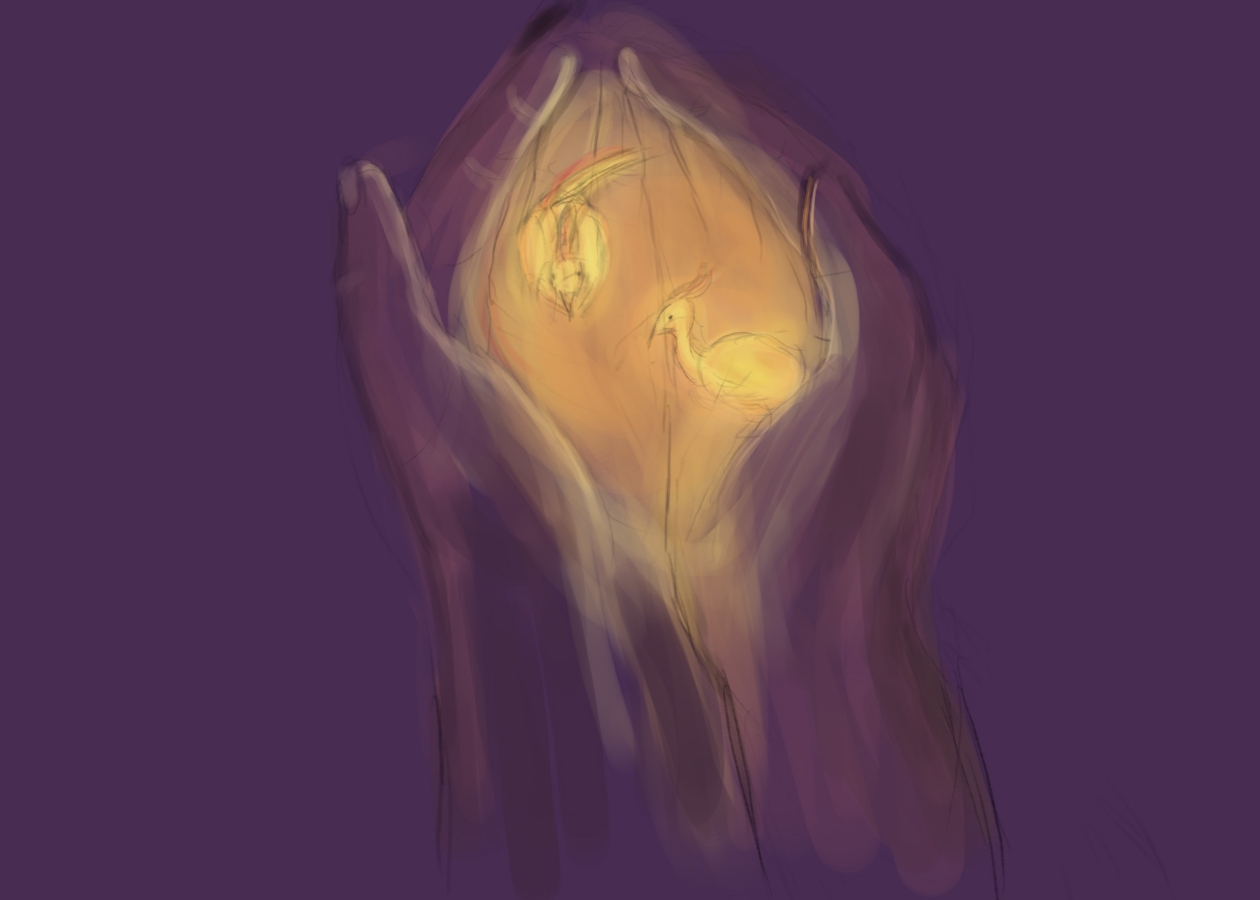 4
"Wait, don't die!" The girl cried and tried to warm the birds who had travelled so far to meet her - but to no avail. Even the warmth, from within her own thick garments was not enough, nothing she did helped and there, right on the doorstep of her home, their last breath left them and they passed away.
"等等,不要死啊!" 女孩儿大声叫着并试图用手捂着它们,以便让这两只长途跋涉前来看她的鸟儿们感受到她掌心的温暖——但是,这没有用。即使是她藏在厚厚衣服里的温暖小手也不足以拯救这两只鸟儿。于是,就在她的家门口,两只鸟儿在呼出最后一口气后,离开了这个世界。
Image style I —– Image style II —– Image style III
A gaping wound opened in her heart and although the lonely girl had been about to open the door, she turned around, and instead of entering the safety of her home, she ran into the night.
她的内心被撕开了一条巨大的伤口。原本是要去开门的孤单女孩没有选择回到自己安全的家庭港湾,反倒转过身去,奔入了茫茫黑夜里。
She never saw the shock on her mother's face when her mother found her footsteps heading out and away, nor did she hear the pleading voice that called out for her.
她再也没看到她妈妈发现她逐渐远去的脚印时惊慌失措的表情,也再没听到她妈妈四处寻找她时恳求的声音。
The lonely girl just ran and never looked back.
孤单女孩就这样头也不回地一直跑呀跑。
br>
*************
br>
She did not know how long she had been running, but she would have surely died if it were not for someone or something holding a protective hand over her.
她都不知道自己跑了多远。若不是有人暗中伸出援手保护她,她肯定早就死掉了。
The snowfall had turned into a blizzard and the lonely girl wandered blindly and without purpose. In the distance she could hear the howling of a wolf-pack closing in and her heart pounded with fear.
细细的飞雪转眼间已经变成了暴风雪,孤单女孩儿漫无目的地在雪地中走着。她能听到在远处狼群的嚎叫声。那声音越来越近,她的心脏怦怦直跳,内心充满了恐惧。
The forest surrounding her, seemed filled with darkness and menace. She thought she was about to die and sank down to her knees and like so many years ago, she began sobbing in the snow.
她周围的丛林似乎充斥着黑暗与危险。她觉得自己马上就要死了,于是她双膝跪倒在地,就像很多年前一样,开始在雪地里啜泣起来。
Once again, like before, a warm hand wiped her tears away.
再一次,一只温暖的手拭去了她的眼泪,如同从前一般。
"Poor child, what in Heaven's name are you doing here on your own? You could die out here!"
"可怜的孩子,你到底一个人在这儿干吗呢?你可能会被冻死的啊!"
"I might as well be dead!" The lonely girl cried, unable to hold the tears back.
"我还不如死了算了!"孤单女孩儿叫喊着,再也抑制不住眼中的泪珠。
"There now, come with me. The woods are no place for a little girl in the middle of the night."
"现在,跟我来吧。大半夜的这林子可不适合小女孩儿呆。"
After a brisk walk they arrived at a small cottage. It was one you would most probably miss, unless you knew precisely where to go. The house was completely hidden from view, lying behind willow trees forming a natural fence around it.
在急匆匆地走出森林后,他们来到了一个小木屋跟前。这可能是最值得你留念的地方,除非你之前知道这里。这幢房屋完全隐藏于视野之外,其坐落于一片由杨柳树围成的自然屏障之后。
Once inside, the old lady removed the lonely girl's stiff garments and wrapped her in a warm furry blanket. She sat her down by the fire and laid the two birds on a wooden plate.
一进屋子,老奶奶便脱去孤单女孩身上已经僵硬了的衣服,给她裹上了一层温暖的毛绒毯子。她靠着炉火坐下,将两只鸟儿放在一个木盘子里。
The girl, too cold and too exhausted to notice, simply sat there, shivering and looking into the flames that were dancing in the fireplace. Her eyes were empty and all hope seemed to have left her. Only a thin, silvery thread seemed to be holding her in this world.
女孩儿感觉又冷又累,完全没有心思去注意四周的环境。她就在那儿坐着,眼睛盯着壁炉中舞动的火苗,全身上下冷得直哆嗦。她的眼睛空洞无神,所有的希望似乎都已经离她而去。一根纤细的银丝似乎已经成为了她在这个世界上的唯一的支柱。
"You know," the old woman began, "I too was once like you, alone and scared. I didn't think that there was one single soul in this world who cared for me, or understood me, but then I met someone. He was a hunter. I never found out precisely where he came from, but I found him very close to the place where I found you tonight."
老奶奶说:"你要知道,曾经的我也和你一样,孤单寂寞、担惊受怕。我不认为这个世界上会有任何人会关心我、理解我。但后面我遇到了一个猎人,我从来没有确切知道过他是从哪里来的,但我发现他的地方离我发现你的地方很近。"
"He was dressed in clothes made from wolf fur and had a wildness about him, that I have not seen since then. But he also had something else - a song he taught me. The same song I taught you, and the same song that you will one day teach someone else to sing."
"他身穿用狼毛制成的衣服,有着一种我未曾见到过的野性。但除此之外他还有别的东西——他教我唱的一首歌,那首我教你唱的,总有一天你也会拿出去教别人唱的歌。"
The old woman stopped. There seemed to be someone at the door. But it did not sound like a human knocking, rather it was more like a scraping sound as if someone, or something, was trying to dig its way through the door.
老奶奶停了下来。似乎有人在敲门,但那听着又不像是人类在敲门的声音。那种刮擦的声音,听着更像是某个人或者某种东西正试着从门口挖个洞钻进来。
She got up, while the lonely girl still sat by the fireplace. The door squeaked as the old lady opened it and a gust of cold air followed the proud creature inside as it entered the cottage.
她站了起来,孤单女孩则仍旧坐在壁炉旁边。老奶奶打开了门,大门吱吱地敞开了,一只雄壮的动物走进了木屋,一股寒流紧随其后。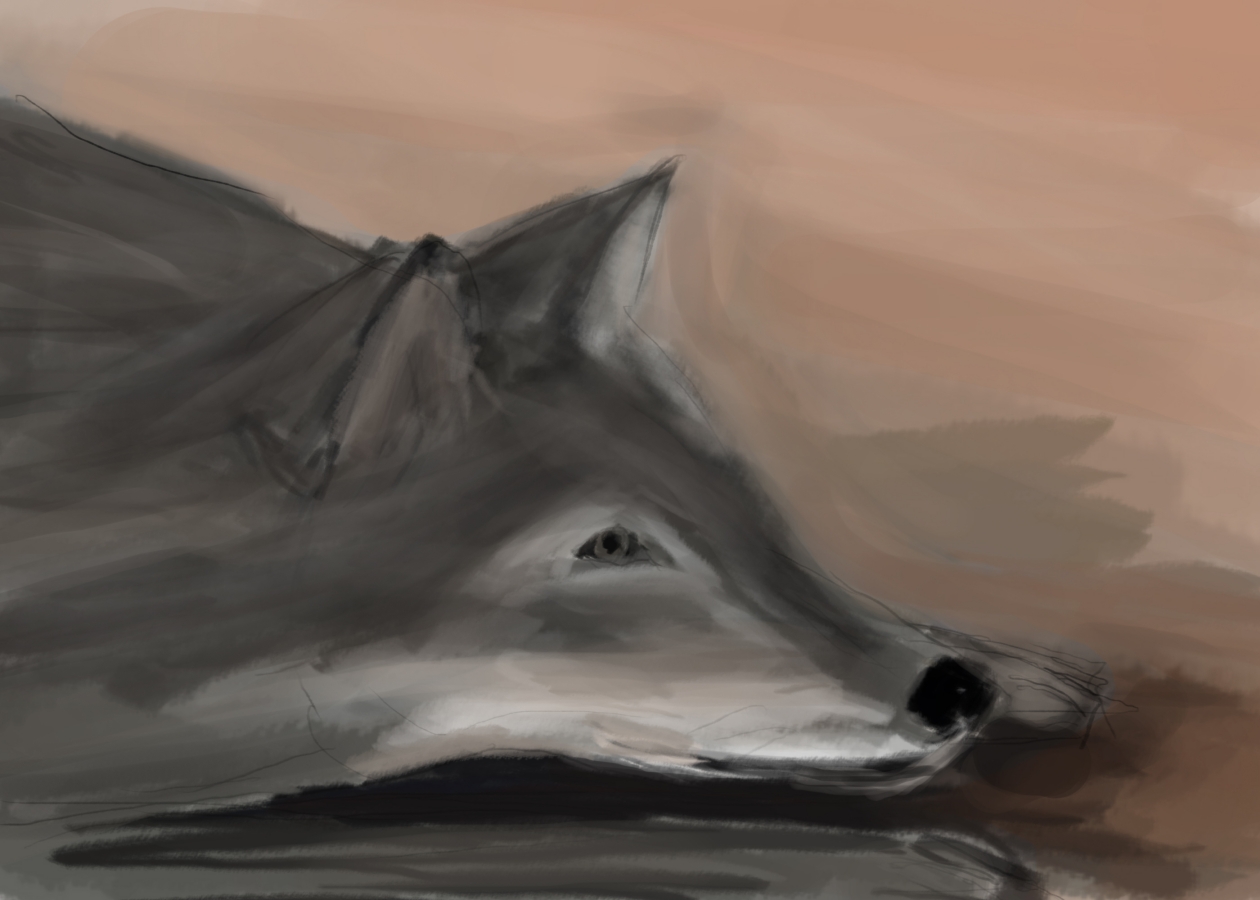 5
The lonely girl's eyes opened wide with fear! The wolf, bigger than any she could ever imagine, trotted over to the fireplace and lay down at her feet.
孤单女孩儿恐惧地睁开了双眼!这匹狼比她想象的要大得多。他走过壁炉,在女孩儿的脚边躺了下来。
The old lady smiled "Don't worry, sweetie, that old fellow will never hurt you. In fact if it wasn't for him, I would never have gone out tonight, and I would never have found you."
老奶奶笑着说:"小乖乖,别担心,那头老狼绝对不会伤害你的。实际上,如果不是因为他,今晚上我是出不来的,而且我也肯定找不到你。"
The wolf let its gaze sweep from the girl to the old woman and responded with a little yelp as if to indicate its agreement to what had just been said.
狼先是看看女孩儿,再看看老太太,而后小吠了一声表示赞同。
The lonely girl, a little warmer but still suspicious of the wild animal in front of her, offered no comment. She was too tired.
孤单女孩还是对眼前的这头野兽不放心,沉默不语。她太累了。
"But let me get back to the story I was telling you!"
"我再说说之前给你讲的那个故事吧!"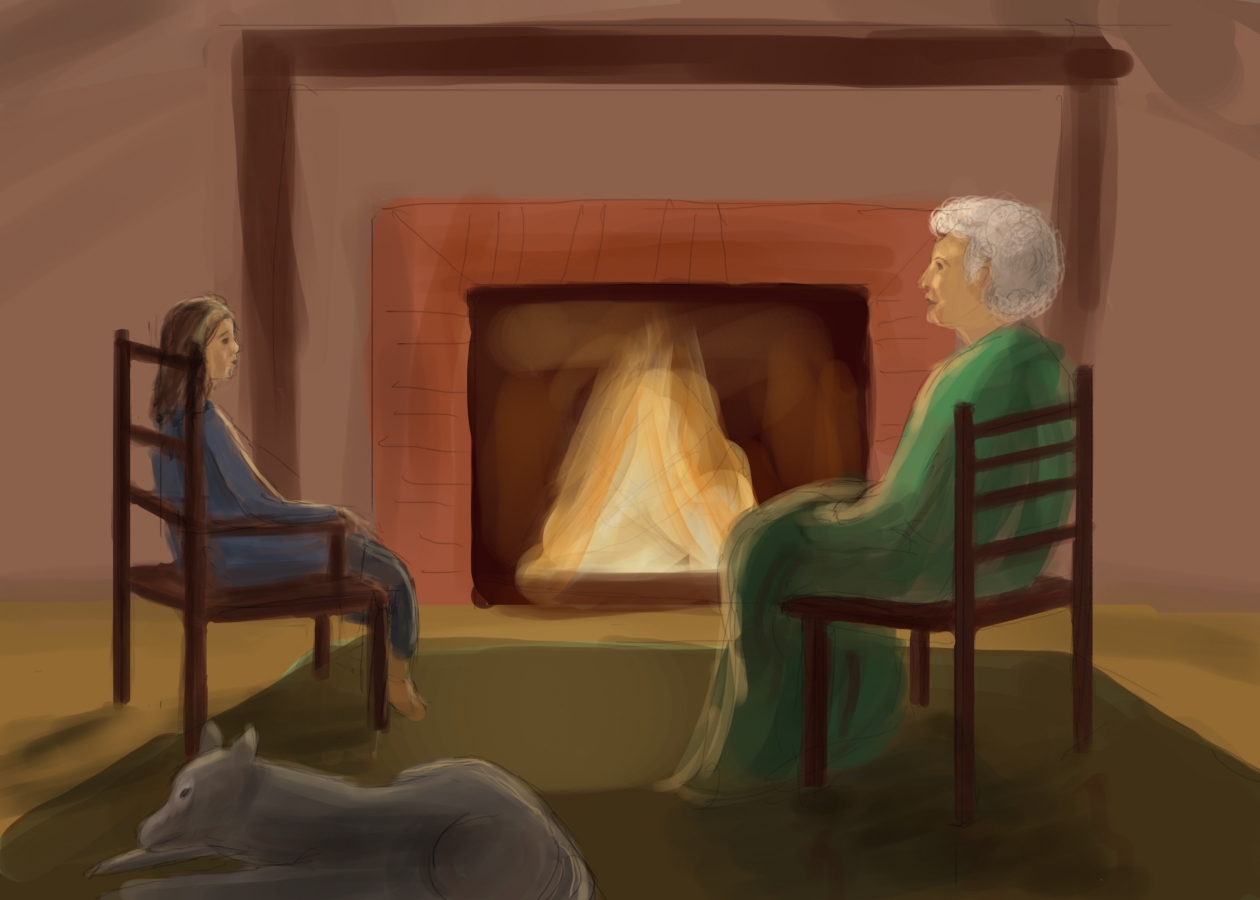 Image style I —– Image style II —– Image style III
"When I found my hunter friend he was in a bad shape. He had almost died from exhaustion and every fibre in his body seemed to be in the claws of the winter cold."
"当我发现我的猎人朋友时,他的情况很糟糕。他当时累到几乎死去,他的每一寸身体都在被寒风的利爪撕扯着。"
"I learned that it wasn't the first time that he'd found himself in such a bad situation. Yet each time, he said he had sung a song; a song from his home, a song that would strengthen his heart and enable him to carry on. When I found him, he had just sung his song and had resigned himself to the fact. that it might be the last time the words would leave his lips."
"我知道,他不是第一次遭遇到这种情况了。但每次遇到困难,他都会唱一首歌;一首来自他故乡的歌,一首能让他振作精神、坚持下去的歌。当我发现他的时候,他刚好唱完了他的歌并且已经接受了这不愉快的现实:这也许是他能唱的最后一首歌了。"
"I don't know if you can imagine how long it was before he recovered fully. He had gone for days without food or shelter and was on the brink of death when I came upon him - luckily, you were much better off."
"我不知道你能否想象他要完全恢复得花多长时间。他已经这样饥肠辘辘、风餐露宿有些时日了。当我发现他时,他已经生命垂危。幸运的是,你的情况要好得多。"
"However, being a man of few words, he said he could not thank me enough for saving his life, but he had nothing to give me except a song."
"然而,他没有说多少话。他说他无以报答我的救命之恩,唯一能回报我的,就是教我唱一首歌。"
"He told me to sing it if ever I felt lonely or filled with despair."
"他告诉我,如果我感到寂寞或绝望的时候,就唱一唱这首歌。"
"The first time I sang it, that old fellow you see in front of you came to my cottage. I had gone without food for a long time and that friendly soul, simply showed up with a freshly killed rabbit in his jaws, he looked at me and just dropped it right there on the ground. Then he yelped and ran off again."
"当我第一次唱那首歌的时候,你眼前的那头老家伙便来到了我的木屋之中。由于我之前已经很久没有吃过东西了,那友善的生灵便出现在我的眼前,给我叼来一只新鲜的兔子,先是看了看我,然后把兔子放在地上,小吠了一声后便离开了。"
"I couldn't believe my luck. My stomach was filled and the world seemed a little less harsh."
"我无法想象我有多幸运。我的肚子被食物塞得慢慢的,整个世界看起来也没有那么残酷了。"
"The second time I met him, I was lost in the woods. I had wandered for days, and as night had begun to fall, I had climbed up into a tree because I was frightened to spend the night on the forest floor."
"当我第二次遇见他时,我在丛林中迷了路。在林子里徘徊了多日之后,每当夜幕开始降临,我便会爬上一棵树过夜,因为我害怕在丛林中受到惊吓。"
"I began to sing."
"我开始唱歌了。"
"To my surprise, he showed up. I instantly recognised him because of his spotted muzzle, and he beckoned me to follow him, moving a few feet and yelping every time he moved a bit."
"令我惊讶的是,他竟然出现了。透过他鼻子上的斑点,我立马认出了他。他示意我跟着他走,我们挪了几步路,他每走一点就轻吠一声。"
"He showed me to this place, a hunter's cottage that seemed to have been abandoned for years. Inside there was dry firewood, so I lit a fire. After a while he came back with a forest hen in his jaw, which he dropped before me. Since that day, I have never had to sing for myself. He drops in every now and then, and because of that I have never felt that I needed to be afraid of what might happen, for every day is a new beginning."
"他带我到了这个地方,一间似乎已被遗弃多年的猎人木屋。屋子里面有干柴火,于是我点燃了炉火。过了一阵子,他从林子里给我叼回了一直野鸡,在我的跟前把它放了下来。自那日起,我就再也没有为自己唱过歌。他时不时地会来拜访我一次,而且我已经不再害怕将要发生的事,因为每一天都是一个新的开始。"
"I also know that someone came to see you!"
"我知道也有人来看过你!"
The lonely girl stirred somewhat bewildered. How could the old lady know? Then she realised, she must have seen the birds.
孤单女孩有点疑惑了。老奶奶怎么知道这回事?之后她明白了,老奶奶肯定见过那些鸟。
"But they are dead…," the lonely girl began.
"但是他们死了……",孤单女孩说道。
"Well, in a sense maybe, but you must understand that they are not of this world. In a way, they are merely silent. You know sometimes, when the world becomes too much for us, we tend to say less and our hearts become frozen."
"从某种程度上说,他们是死了。但是你得明白他们不是这个世界上的。从某种程度上讲,他们只是在保持沉默。你要知道,当这个世界变得对我们过为已甚的时候,我们便会变得缄口不言、内心冰封。"
"In essence, that is what has happened to them because they took it upon themselves to free you from your loneliness, but alas, it was too much for them to bear in one go and thus their spirit seems to be no longer within their bodies."
"实际上,那事情就发生在他们身上。他们为了把你从寂寞中解救出来,为你承担了这一切。但是啊,一次性承担如此巨大的痛苦对他们来说太过难以承受,于是他们的灵魂便离开了他们的躯体。"
"But actually, you know there is something you can do for them, for these are not just birds, they are of Phoenix lineage. You can set them free and allow them to return to the plane from which they came."
"但最终,你可以为他们做一点事情,因为他们不只是鸟,而是凤凰。你可以让他们重获自由并且让他们回到他们的归属地。"
The lonely girl's eyes opened wide - could they truly be saved? Her heart tingled.
孤单女孩把眼睛瞪得大大的,心想:他们真的能被救活吗?她的心脏悸动了。
"What must I do?" She asked.
"我该做些什么?"她问道。
The old lady smiled. "It is very simple, actually." She got up and walked over to the table where she had placed the wooden plate. She handed it to the girl.
老奶奶微笑地说道:"实际上这很简单。"她站了起来,走到盛放木盘子的桌旁,将盘子递给了女孩。
The wolf got up and looked at them with sorrow in his eyes and a couple of small whining yelps ensued.
狼站了起来,悲伤地看着他们,低声哀嚎了几声。
Without further ado, the lonely girl approached the fireplace, plate in hand. She looked at the old woman who gave her a nod.
孤单女孩毫不犹豫地走近了炉火,手中拿着盘子。她望着老奶奶,老奶奶对她点了点头。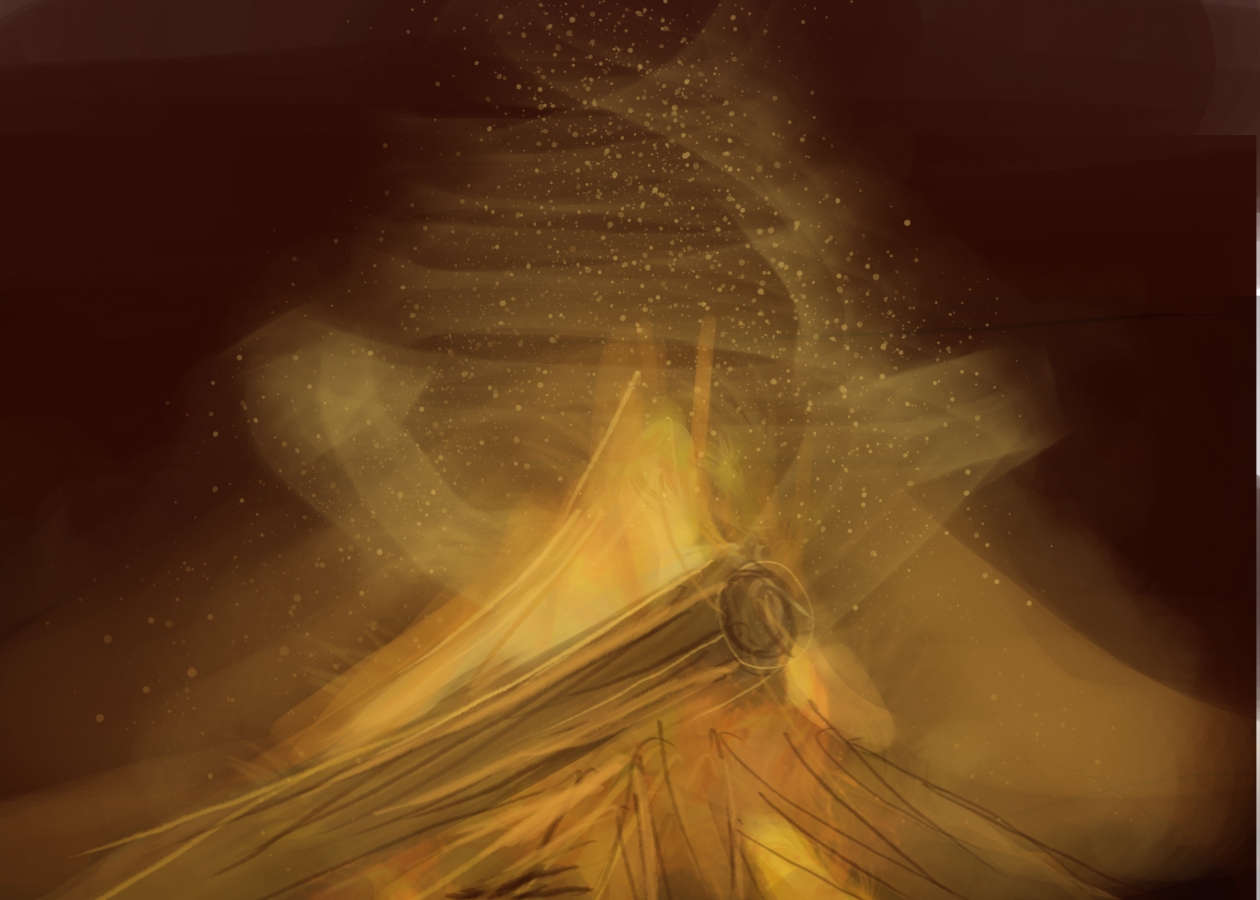 6
The lonely girl gently placed the plate on top of the burning logs. Slowly the flames engulfed the plate and the wood darkened. The instant the dark wood burst into flames, the two birds vaporised, melting first into sand, then turning into coloured smoke which disappeared up the chimney.
孤单女孩轻轻地把盘子放在燃烧的木块上。慢慢地,火焰吞噬了盘子,木盘表面变成了炭黑色。当炭黑色的木盘化作阵阵火焰,两只鸟儿的身体先是蒸发成了砂子状的细小颗粒,尔后升华成为五彩斑斓的烟雾,飘上烟囱,消失在了天空之中。
"It is done." The old lady said.
"好了。"老奶奶说。
The girl sank into the chair again and fell into a deep, deep sleep. After what had to be several hours, she was awakened by a wet tongue licking her cheek.
女孩重重地坐在椅子里,沉沉地睡着了。约摸着过了几个小时,她被自己脸上一只湿润的舌头给添醒了。
"Yeuch!" She exclaimed as she opened her eyes.
"呀!"她惊叫着睁开了眼。
The old lady was standing over her with the wolf by her side. Apparently she had carried the lonely girl into her bed, to sleep. The old lady smiled and held out the girl's clothes which were now crisp and dry.
老奶奶和狼正站在她的身旁。很显然,她把孤单女孩抱到床上睡觉去了。老奶奶面带着微笑,将女孩被洗得干干净净的衣服递给了她。
"Can you hear it?" She asked.
"你听得到吗?"她问道。
The lonely girl tried to listen and could make out muffled voices.
孤单女孩试了试,她只听到了很低沉的声音。
"Mother?" The girl asked, her heart still heavy with sorrow.
"妈妈?"女孩问道,她的心情沉重悲伤依旧。
"Not just your mother. I believe the entire village is out looking for you. Get dressed quickly and don't keep them waiting."
"不只是你的妈妈,我相信整个村子的人都来找你了。快把衣服穿好,别让他们等了。"
Image style I —– Image style II —– Image style III
The lonely girl was soon united with her mother and the search was called off as they headed home.
孤单女孩很快与她的妈妈团聚了,村民们也停止了搜索,开始踏上归途。
Before they did though, the lonely girl turned around in order to wave goodbye to the old lady, but she was gone.
在他们走之前,孤单女孩转过身去,本想挥手向老奶奶道别,可当时她已经不在了。
The lonely girl could not even see where the entrance to the fence surrounding the cottage might be and her mother was too excited to have found her to notice that her daughter was trying to tell her that something was amiss.
孤单女孩的眼里甚至都找不到环绕木屋的篱笆入口,她妈妈由于找到她太过激动,都没有注意到她的女儿想告诉她事情有些不对劲。
The lonely girl did glimpse the head of a wolf for the briefest of moments, and it seemed to wink at her before running off.
孤单女孩一晃眼瞟到了一只狼的脑袋,它在跑掉之前似乎向她眨了眨眼睛。
As they approached home, the lonely girl felt her heart sink even deeper and no matter how joyously she was greeted by villager after villager and family members, one after another, she felt the cold sting of winter creeping back into her heart.
正当他们快要到家的时候,孤单女孩感觉她的心情比之前更加沉重了。无论村民们和家人一个接一个见到她时是多么的高兴,她仍感到刺骨寒冬正在重新占据她的内心。
As they entered the yard surrounding the farm house, the lonely girl was silently humming a song of longing.
当他们正走进环绕农舍的院子时,孤单女孩正在静静地哼唱一首憧憬小曲。
After reluctantly eating a family meal, which was more like a feast in order to celebrate her safe return, she was not at all prepared for the sight that met her.
在很不情愿地吃过一顿更像是为了庆贺她安全回归的家庭聚餐之后,她完全没有准备看到她即将看到的一幕。
She had just stepped into the bedroom, after excusing herself from the meal, pleading exhaustion, and her eyes opened wide.
在找了个理由离开饭桌后,她走进了卧室。她的眼睛睁得大大的,她竭力恳求的事情发生了。
Before her stood two birds. They were even more magnificent than the first two she had met.
在她面前站了两只鸟。他们看起来甚至比她第一次见到他们时更加的华丽。
In front of one of them, there was a translucent egg and inside the egg was the most beautiful chick that she had ever seen.
在他们的面前放着一只半透明的蛋,里面有一只她平生见过的最漂亮的小鸟。
7
As she gazed from one to the other, the lonely girl figured that it had to be the male who was holding his wings around the egg, as if to protect it.
孤单女孩挨个儿注视着鸟儿们,她意识到那只将翅膀环绕着鸟蛋,像是要保护它似的鸟儿肯定是只雄鸟。
Once again, although the birds dwarfed her, she felt no fear and though birds have not mouths but beaks, to the girl, in all other ways and manners, they still appeared to be smiling.
再一次,尽管鸟儿们比她高大许多,孤单女孩并没有感到恐惧。即使鸟儿们没有嘴,有的只是喙,在女孩看来,它们的各种体态姿势似乎都意味着它们正在微笑。
"You knew my parents," the male said, waiting a bit to let his words sink in.
"你是认识我的父母的。"雄鸟说道,并稍等了一会以使他的声音变得深沉。
"Sadly, they told me, that they were not able to stay in this world, as they had grown old and weak. They were even about to attempt to go back, but I told them no! They would not have been able to go through the ordeal again. As the eldest son, I said that we'd go in their place. After all, we're young and strong and we are able to see your world differently than my parents were able to."
"悲剧的是,他们告诉我他们没有办法再在这个世界呆下去了,因为他们已经变得年老体衰。他们甚至有想回来的冲动,但被我阻止了——这种磨难他们肯定撑不过第二次。作为最年长的儿子,我说我会代替他们去的。毕竟,我们既年轻又强壮并且能够用一种不同的眼光看待你们的世界。"
"And as you might have already come to understand, we never leave those who are near and dear to us. We might be gone for a while, but we could not bear the thought of you here alone with no friends, so here we are. I promise you, that as long as we live, you will never have to be alone again!"
"正如你可能所知,我们是绝对不会舍弃于我们至亲至爱的人们的。我们可能是离开了许久,但我们无法忍受你在这里孤单寂寞没有朋友,所以我们便来到了这里。我向你保证,只要我们活着,你就绝对不会再感到寂寞!"
The male looked upon his mate who had a mysterious look about her. Suddenly there was a knock on the door.
雄鸟正望着一脸神秘的同伴,突然,门响了。
"Who is it?," the girl asked, somewhat startled.
"是谁?"似乎有些惊慌失措的女孩问道。
"There is someone to see you." Her mother's voice replied softly.
"有人要来看看你。"她的妈妈温柔地回答道。
"Come on in." The little girl answered rather puzzled. She had not had visitors for years.
"过来吧。"小女孩满是疑惑地回答道,已经有好几年没有人来看过她了。
She felt a tingle in her heart, and as the door opened, the lonely girl saw her mother standing there with someone beside her.
她的心里感到了一阵兴奋。当门打开时,孤单女孩看到她的妈妈与某个人站在一起。
At first, she could not quite make out who it was in the dim light, but a smile quickly came to her face and tears of joy filled her eyes; and as she embraced her childhood friend, she suddenly realised what it all meant.
起初,在昏暗的光线下她没法辨别出那人是谁。但很快地她笑了起来,眼中充满了欢乐的泪水;当她拥抱童年时代的好友时,她突然领会到了所有这一切的含义。
The story the old lady had told her, the birds, the wolf, and how it was, not that anyone had been ripped from her life, nor had anyone abandoned her because she was different, it was her, herself who had held back, been afraid to open up her heart, it was she who had driven all and everyone away with her behaviour.
老奶奶给她讲的故事、巨鸟、老狼以及这中间所发生的一切,其实都暗示着一个事实:从来没有任何人离开过她的生活,也没有任何人因为她的不同而抛弃过她,是她自己害怕将内心向别人敞开,变得畏缩不前,才用她的行为把所有人都逐出了自己的生活。
At that very moment in the warmth of the embrace, of a friend thought lost and gone for ever, she realised that she was not alone.
就在这个时刻,她享受着与这个自认为已经永远失去的朋友激情相拥的温暖,并且她意识到,她不是孤独的。
And in a cottage far, far away in the forest, an old lady found her peace and laid down to rest, with an old wolf at her bedside.
在遥远丛林中的一间小木屋里,一位老奶奶正安详地躺在床上静静地歇息,在她的床边守护着一头老狼。
The End.
终